Welcome to Itämeren Portti!
The Guest harbor will be open for guests until September 30th 2023.
Opening hours: Sunday ti Thursday 8 – 20. Fridays and Saturday 8 – 24.
Special INFO 6-9.7.2023 
During the Hanko regatta there are special arrangements:
Wristband is requested for the island from Thursday to Saturday 15-04
The wristbands are handed out from the harbour office from 10 am on Thursday and from 8 am on Friday and Saturday
6 wristbands for boats on 3,5-5m berths and 8 wristbands for boats on superyacht fingers and long-side berths. 
Harbour office open and ferry traffic 24/7
Special prices during the Regatta from Thursday to Sunday: On 3,5m – 5m berths the price is 110€/night and the larger longside berths and superyacht-fingers 2,5 x list price, with minumum price får <15meter yachts 185€/night.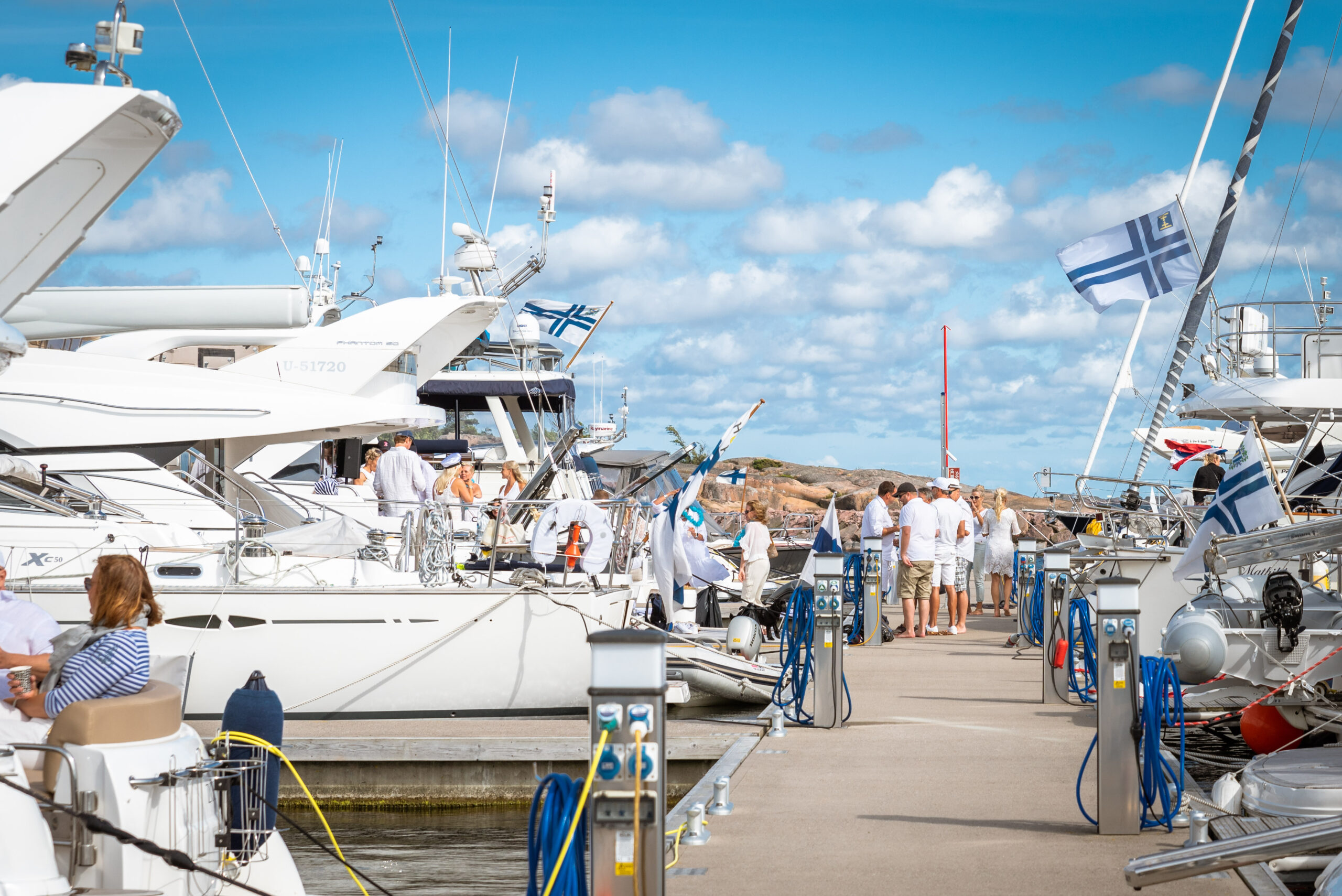 Itämeren Portti is a share owned home- and guest marina.
Itämeren Portti is a share-owned home and guest harbour, located at Smultrongrund, in the perimeter of Eastern Harbor in Hanko. The marina consists of 295 berths for both smaller size pleasure boats and larger size yachts. Every berth is owned by a share holder, but berthing at free spots can be purchased for one night at the time in the harbour office. A reserved berth can be spotted by a red traffic cone by the berth number! Note that only shareholders can reserve their own berth, but we do have a few berths available for reservation through dockspot.com. Visit the Dockspot-webiste to reserve and pay for you guest berth in advance.
The harbour office is located by the small ferry that leaves to mainland Hanko. We kindly ask that you pay the harbour-fee as soon as possible after berthing. (In case of unpaid harbour fee, we will collect a penalty fee of 15 €, in addition to the harbour-fee). Usage of our newly renovated saunas (separate for men and women), with showers and toilets, are included in the berthing fee. The harbour area also consists of 14 toilets, a laundry room and a newly renovated restaurant.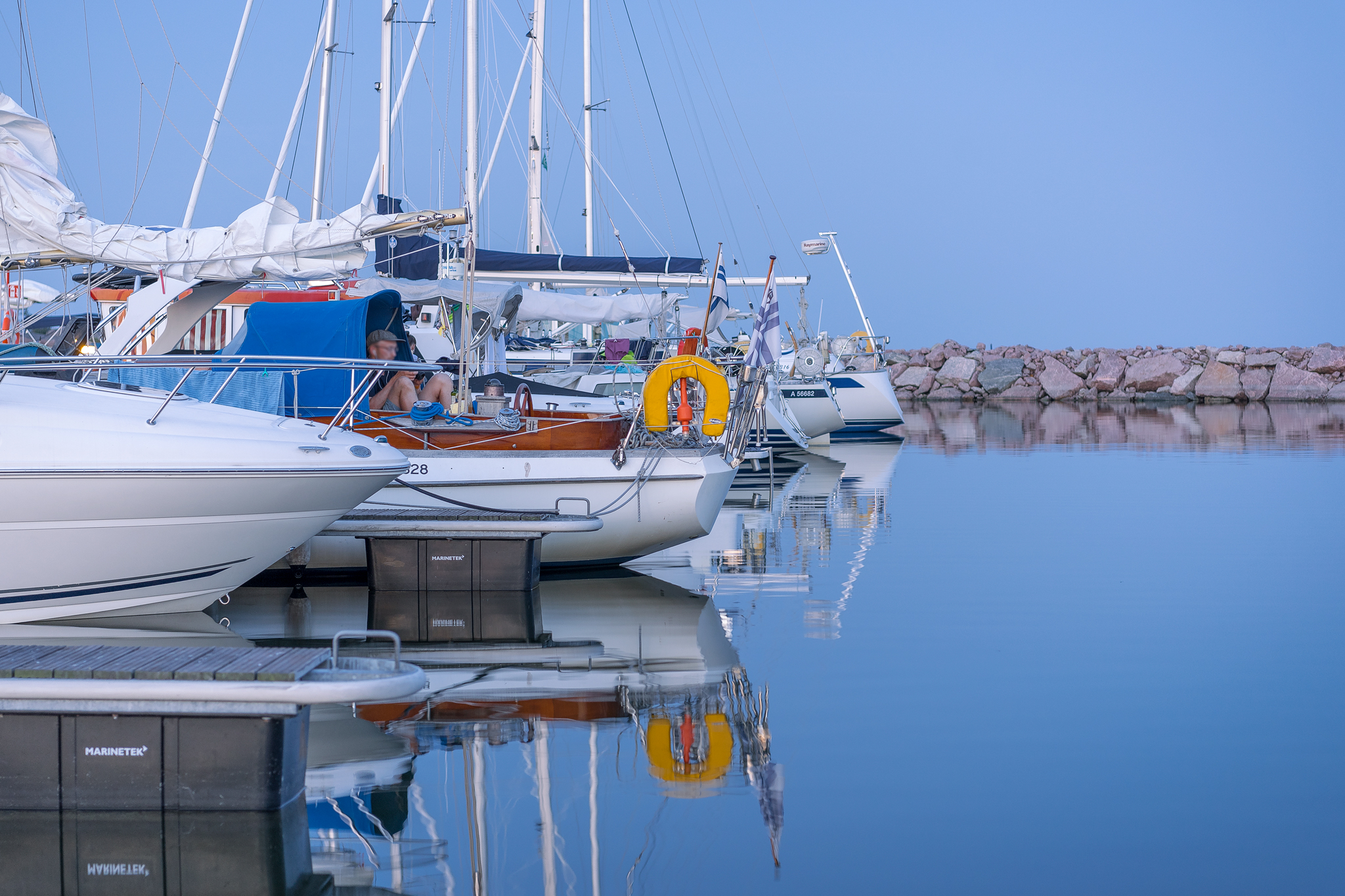 Sauna
In the marina, there are two newly built saunas for gents and ladies. All our sauna facilities include fresh modern shower rooms and toilets. The sauna is warm between 8:00 and 9:30 in the morning and 16:00 to 22:00. In between is a cleaning break, but the showers are available 24/7. The usage of the sauna facilities are included in the marina-fee and door-code is available upon payment of the harbour fee.
Waterfront sauna
Out on the island, there are two private waterfront saunas, with direct and easy access from the terrace to the sea for swimming. For shareholders, the usage of these saunas are free of charge, but remember to book your turn in advance. For boat guests, it is also possible to rent the sauna during May, June and August. In July, they are mainly the shareholders' disposal. The sauna turns are 1.5 hours long and the facilities must be left in good condition when you leave. The sauna fee must be paid in advance at the harbour office where door code and further instructions are also given to make your sauna experience as pleasant and convenient for you as possible.
IF YOU DO NOT INFORM US REGARDING CANCELLATIONS, YOU WILL BE CHARGED A PENALTY FEE. THIS APPLIES TO BOTH GUESTS AND SHAREHOLDERS!
WC
There are 14 toilets at your disposal, conveniently spread out all over the marina.
Laundry room
In the harbour office building there is a laundry room with two washing machines and associated dryers at your disposal. The use of the laundry room is booked using the list that is placed on the wall by the washing machines. The fee is paid to the harbour office in advance and you will receive a token to be used in the washing machine.
Swimming beach
Since 2018 there is a small sandy beach at Smultrongrund. The beach has been popular among the younger crewmembers. It is right beside the ladies' sauna facilities and anyone can visit the beach for a quick dip in the Baltic Sea.
Garbage
We have a garbage disposal & recycling station for our boat guests. We kindly remind you to separate your cartons and bio waste from your mixed waste in their respective containers. During high season, there are additional waste bins all around the island for your convenience. Garbage disposal is included in the marina fee.
Sewage and service station
Next to the harbour, at the ST1 marine service station, you can empty your sewage tank free of charge. The petrol and service station also serves you with much more that you and your boat may need, such as chemicals, gas and charts.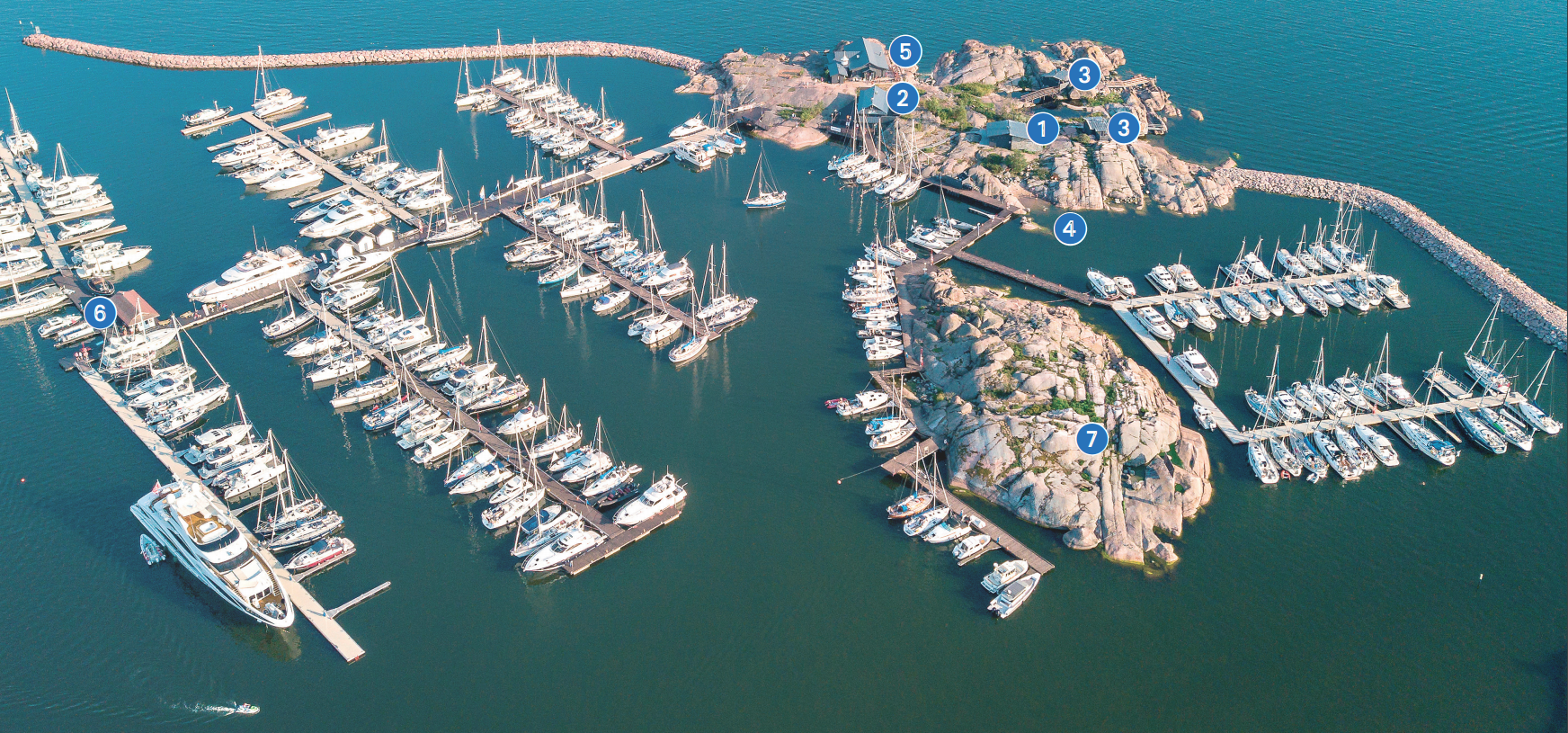 – Sauna for ladies 1 and for gents 2
- Two waterfron saunas for rental 3
- Swimming beach 4
- 2018 renewed restaurant 5
- Harmour office and laundry room 6
- Dog walking area 7
Enjoy original islander flavours and warm summer vibes.
Finland's southernmost restaurant, Hangon Portti, invites you to enjoy authentic archipelago flavours and breathtaking views. Fully refurbished in spring 2013, the restaurant is a unique blend of casual elegance and the summer atmosphere of the Archipelago Sea. The menu has been built on fresh ingredients with a strong local touch. There are also jazz nights every Friday and many different summer events. Come and enjoy our lovely summer terrace! 
Marina fee
(1.5 - 30.6, 10.8 - 30.9)
Water, electricity, sauna, showers and use of the ferry are included in the price.

Storage: 18 €
Water, electricity, sauna, showers and use of the ferry are included in the price.

Note: special pricing during the Hanko Regatta and Poker Run events.
Longside & Superyacht
pricing according to boat length
12 m: 65

12 m – 14,99 m: 75 €

15 m – 19,99 m: 105 €

20 – 24,99 m: 130 €
1 – 5 pers.: 100 €

> 5 pers.: 20 € / pers.

The sauna bookings are 1.5 hours long. If a booking is not used, a heating fee of 40 € will be charged (This also applies to shareholders)
Laundry
washing machine + dryer
For one use, 9,50 euros will be charged. (includes washing and drying)

The use of the laundry room is booked using the list that is located on the wall and then the fee is paid to the harbour office.
All prices are including VAT
Smultrongrund, FI-10900 HANKO